Tests on Antimicrobial Activity and Antifungal Activity
JEF-TEC's Strength in Antimicrobial Activity Test
JET-TEC offers the antimicrobial activity test of chemicals and drugs against Escherichia coli, Staphylococcus aureus, Pseudomonas aeruginosa, Bacillus subtilis, and Aspergillums niger.
Effectiveness of the chemicals and treatment in antimicrobial activity can be tested on various inorganic and organic materials such steel sheets, precoated steel sheets, plastic sheets, and photo-catalyst materials.
JEF-TEC combines the instrumental analysis of materials with the surface analysis of the materials using an electron microscope, contributing to the research and development of new products and the steady operation of manufacturing and the quality control of products with little fluctuation.
JEF-TEC has a proven track record on evaluation of the antimicrobial activity in various materials such as development of antimicrobial stainless steel sheet.
Evaluation Method for the Antimicrobial Activity
Microbes to be evaluated

Escherichia coli, Staphylococcus aureus, Pseudomonas aeruginosa, Bacillus subtilis, Legionella bacterium, and Cladosporium chladosporioides.

Evaluation method

Film adhesion method, antimicrobial drop test method, halo method (against fungus), ultraviolet light irradiation method

* JEF-TEC selects the shape of the test specimen, the type of the test methods, use of ultraviolet light irradiation depending on the types of bacteria and fungi.
Evaluation Examples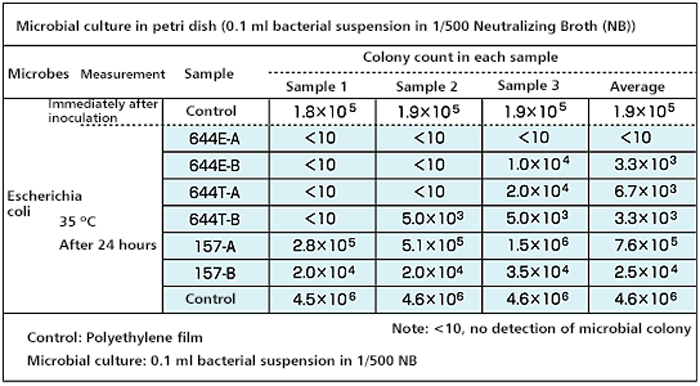 JEF-TEC's Strength in Antifungal Activity Test
JEF-TEC performs various antifungal activity tests based on JIS Z 2911 for industrial products and materials such as plastics, glasses, rubbers, steel sheets, and textile fabrics.
Aspergillum niger, Penicillium citrinum, and Cladosporium chladosporioides are used singly or in combination for the antifungal activity tests.
JEF-TEC recently introduced the antifungal activity test method to quantify the concentration of adenosine triphosphate (ATP) involved in the fungal cell by monitoring the absorbance at a particular wavelength for evaluation of the fugal growth rate. This test method can be completed within a few days.
Please don't hesitate to contact us to find what types and shapes of the materials and products can be tested for evaluation of the antifungal activity against various fungi.
JEF-TEC offers the antifungal activity test on building materials such as walls and floors and the identification service on fungi formed in foods.
Picture 1
Aspergillus niger :
Aspergillum niger is the fungus found in soil and atmosphere and often used in the antifungal activity test based on JIS Z 2911.

Picture 2
Cladosporium cladosporioides :
Cladosporium cladosporioides can be found in soil, atmosphere, timbers, plants, fodders, and caulking joints around bathtub and tiles. It is also found in house dust.
In this test the antifungal activity test took 7 to 14 days for inoculating the fungi in agar culture, sometime one month depending on the type of fungi (see Pictures 1 and 2).
Inquiry about Products and Services