Creep Test & Creep Rupture Test
Creep Test and Creep Data Analysis
JFE-TEC will perform commissioned "Creep characteristic" test. Deformation of metallic materials will stop even under loading at room temperature if it is below the breaking force. However, the deformation will not stop at high temperature above a certain temperature even under a constant force, and it will continue to be deformed with elapsed time until rupture. This is so-called creep deformation and creep rupture of materials.
Since life of equipment used under high temperature is often determined by the creep rupture of materials, creep characteristics are incorporated in the safety standards used in various fields including thermal power generation.
Outline of Creep Test
Creep test :
Creep elongation is measured with elapsed time, and creep curve is determined accordingly.
Creep rupture test :
Creep rupture time, break elongation and reduction of area at break are determined. Stress vs rupture time curve is determined and creep rupture characteristics are evaluated.
Internal-pressure creep test :
Creep characteristics are evaluated under pressurized conditions to internal surface of a steel pipe.
Creep Test Equipment
Name
Outline of specification
Single creep test machine
Test temp. : max. 1050℃, load: max. 3 tons, 180 units
Test temp. : max. 800℃, load: max. 5 tons, 5 units
Spring-type multi creep test machine
Test temp. : max. 750℃
Load: max. 0.8 tons, 6 units (× 6 pull rods/unit × 8 pieces/pull rod)
Lever-type multi creep test machine
Test temp. : max. 900℃
Load: max. 1.5 tons, 12 units (× 6 pull rods/unit × 3 pieces/pull rod)
Direct loading-type creep test machine
Test temp. : max. 1000℃, load: up to 100 kg, 2 units
Internal pressure creep test machine
Test temp. : 300℃ to 800℃
Test pressure: max. 1,500 atm
Pipe size: up to 60 mmφ, 6 units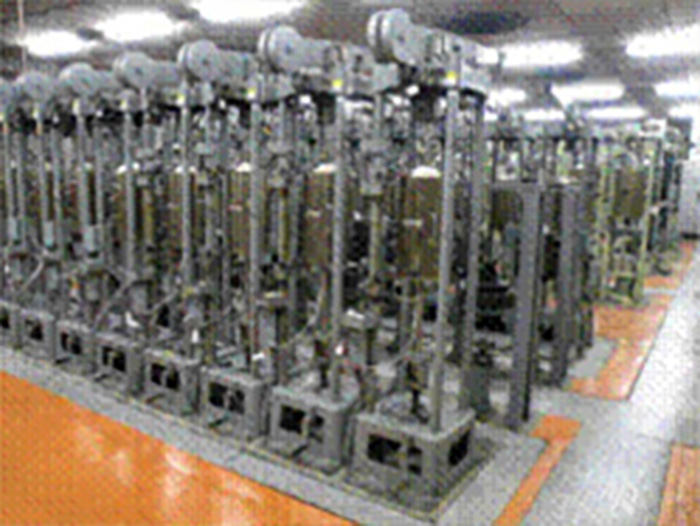 Measurement Example of Creep Curve
Sample:Low alloy steel (JIS STBA25: 5Cr-0.5Mo steel)
Test stress :120MPa
Test temp :550℃
Test machine :Single creep test machine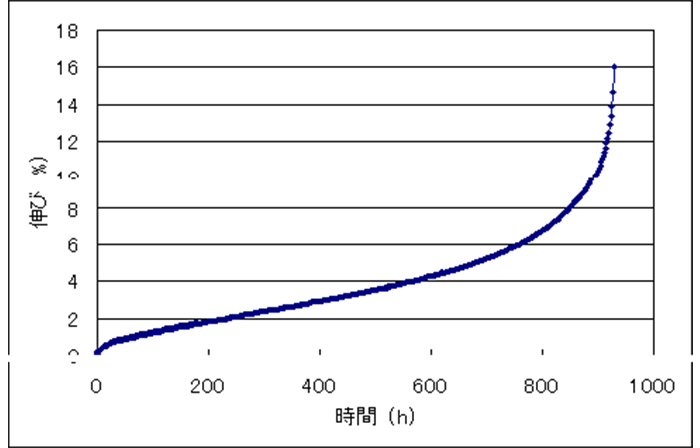 Inquiry about Products and Services