Analysis of Pops and Environmental Pollutants
Analysis of Volatile Organic Compounds (VOCs)
What Are Volatile Organic Compounds (VOCs)?
Volatile organic compounds (VOCs) refer to "organic compounds which are gaseous when they are released or dispersed in atmosphere (except for those specified by government ordinance as substances that do not result in generation of suspended particulate matters or oxidants)." Air Pollution Control Law specifies facilities of certain scale or larger as volatile organic compound emission facilities (details about facilities) with classification into 9 items.
VOCs emitted into atmosphere may cause photochemical oxidants or suspended particulate matters (SPMs), and thus reduction in their emission is demanded. VOCs may also cause soil pollution or groundwater pollution as they permeate underground when released into soil. They are also under the spotlight as causal substances for indoor air pollution on residence and so forth (about sick-house and sick-school syndromes). VOCs have been reported to cause headaches and dizziness when inhaled, and cause central nerve, impaired liver and kidney function as well as cancer.
JFE-TEC can analyze and evaluate them in various media including exhaust gas, atmosphere, soil, water quality and indoor environment!! Please feel free to contact us.
Atmosphere
In Relation To Generic Environmental Air Environmental Standards
Environmental standards related to air pollution
Of the 10 substances (including dioxins) specified in environmental standards related to air pollution, benzene, trichloroethylene, tetrachloroethylene and dichloromethane are specified as VOCs.
VOCs is measured in samples collected in sampling tubes and so forth using a gas chromatograph mass spectrometer.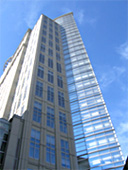 In Relation To Air Pollution Control Law
Outline of Air Pollution Control Law (website for Ministry of the Environment)
Emission reduction of volatile organic compounds
Facilities of certain scale or larger are specified as "volatile organic compound emission facilities" with classification into 9 items, and total volatile organic compounds (total VOCs) is subjected to regulation.
Analysis of total VOCs is conducted by using a catalytic oxidation-nondispersive infrared analyzer (GC-NDIR) based on the official analytical method. We also handle individual analysis of VOCs for purposes to elucidate the cause in case total VOCs is detected in high concentration and so forth.
Promotion of measures against hazardous air pollutants
"Hazardous air pollutants" refer to the substances that may cause health effects from long-term intake even in low concentrations, and 234 substances are listed as possible hazardous air pollutants. The following 22 substances are also listed as substances for which measures should be taken with special priority (priority substances considering measures to be taken). Many of these are VOCs. Analysis of VOCs is conducted according to the hazardous air pollutant measurement manual.
(1) Acrylonitrile, (2) acetaldehyde*1, (3) vinyl chloride monomer*1, (4) chloroform*1, (5) chloromethyl methyl ether, (6) ethylene oxide, (7) 1,2-dichloroethane*1, (8) dichloromethane*1, (9) mercury and its compounds, (10) talc (containing asbestiform fibers), (11) dioxins*2, (12) tetrachloroethylene*1, (13) trichloroethylene*1, (14) nickel compounds*1, (15) arsenic and its compounds, (16) 1,3-butadiene*1, (17) beryllium and its compounds, (18) benzene*1, (19) benzo (a) pyrene, (20) formaldehyde*1, (21) manganese and its compounds, and (22) hexavalent chromium compounds
*1: Businesses must prepare an independent management plan and work on suppression of emission.
*2: Measures against dioxins are taken based on Act on Special Measures concerning Countermeasures against Dioxins.
Soil
For Soil Pollution Environmental Standards
11 VOC items are specified under environmental standards for soil pollution, and measurements are conducted using the methods specified in JIS K 0215.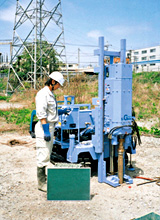 Water Quality
Government Ordinances Specifying Environmental Standards Related to Water Pollution and Effluent Standards
To protect human health and maintain our living environment, environmental standard values are specified for public waters. Unified effluent standards are also specified for effluent generated from workplaces and so forth, and VOCs are included in these environmental standards and effluent standards.
Reference
Environmental standards related to water pollution
Government ordinances specifying effluent standards
Guidelines on survey and measures in relation to soil/groundwater pollution
The following 11 items are specified as subject substances: dichloromethane, carbon tetrachloride, 1,2-dichloroethane, 1,1-dichloroethylene, cis-1,2-dichloroethylene, 1,1,1-trichloroethane, 1,1,2-trichloroethane, trichloroethylene, tetrachloroethylene, benzene, and 1,3-dichloropropene.
Research Papers/Materials
"A Survey of Chemical Substances in Residences" (Journal of Society of Indoor Environment, Japan Vol.5, No.1, pp.23-35, 2002)
Kenji Otsuka (Kokan-Keisoku K.K., at present; JFE Techno-Research), Toshiro Matsumura, and Mika Hamada (Institute for Food and Environment)
"Influence of Tobacco Smoke on Indoor Air Pollution" (Environmental Management Vol.48, pp.47-57, 2003)
Kenji Otsuka (Kokan-Keisoku K.K., at present; JFE Techno-Research), et al.
Inquiry about Products and Services