Manufacture and Sale of
Original Standard Reference Materials
Standard Reference Specimens for Analysis of Antimony in Plastics (For X-ray Fluorescence Analysis)
Announcing the launch of a new series of JFE-TEC's original standard reference specimens

Regulations on hazardous substances contained in products have been strengthened in recent years. Halogen-free regulations have been adopted internationally under IEC 61249-2-21 and in Japan by the Japan Electronics Packaging and Circuits Association (JPCA). Voluntary restraints are also spreading on antimony, which is, just like halogen, used as a flame retardant in plastics. Manufacturers of electrical/electronic equipment have been active in promoting antimony-free products.

X-ray fluorescence spectrometers are widely used for the screening analysis of hazardous substances. Fluorescent X-ray analysis requires no special pretreatment and thus enables quick, easy simplified quantitative determination. However, standard reference specimens necessary for the analysis of antimony have not been available in the market.

JFE-TEC has recently developed a new standard reference specimen meeting the needs for such an antimony analysis.
Product Features
Enables screening analysis of antimony in plastics by fluorescent X-ray analysis.
Compatible with any X-ray fluorescence spectrometer, regardless of the manufacturer.
(Note: Measurement performance may vary depending on the instrument used or its specifications.)

Supports simplified quantitative determination of antimony concentrations of up to 800 ppm.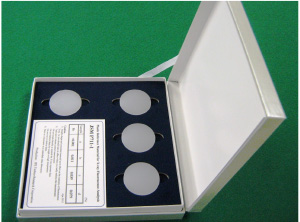 Standard Reference Specimens for Fluorescent X-ray Analysis

Specimen No. JSM P711-1
Specimen Shape: 40 mm (D) × 4 mm (T), a set of 4 levels
Material: Polyethylene
Concentration level

Specimen No.
Sb (%)
JSM P711-1
a
<0.001
b
0.010
c
0.039
d
0.079

Example of Measurement by Fluorescent X-ray Analysis

Fig. 2 Measured spectra

Fig. 3 Calibration curve
Ensured Reliability of Analysis Results
The standard values of standard reference specimens must provide clear traceability.
Analysis for determination of standard values is performed at our multiple testing laboratories, using "acid decomposition/inductively coupled plasma-mass spectrometry (ICP-MS)" and "acid decomposition/atomic absorption spectrophotometry (AAS)," which are both precision analysis methods. Additionally, traceability is secured by the repeatability analysis of ERM standard reference materials.
JFE-TEC strives to supply highly reliable standard reference specimens.
JFE-TEC provides a wide range of standard reference specimens of various materials and compositions. Please feel free to consult us.
Inquiry about Products and Services